Christmas is only a couple days away. Christmas Eve falls on a Sunday this year. Though that may mean a short Advent, there have been many who have been confused about how many Masses they have to attend on December 24.
I've seen several versions of this chart this past Advent season on several webpages :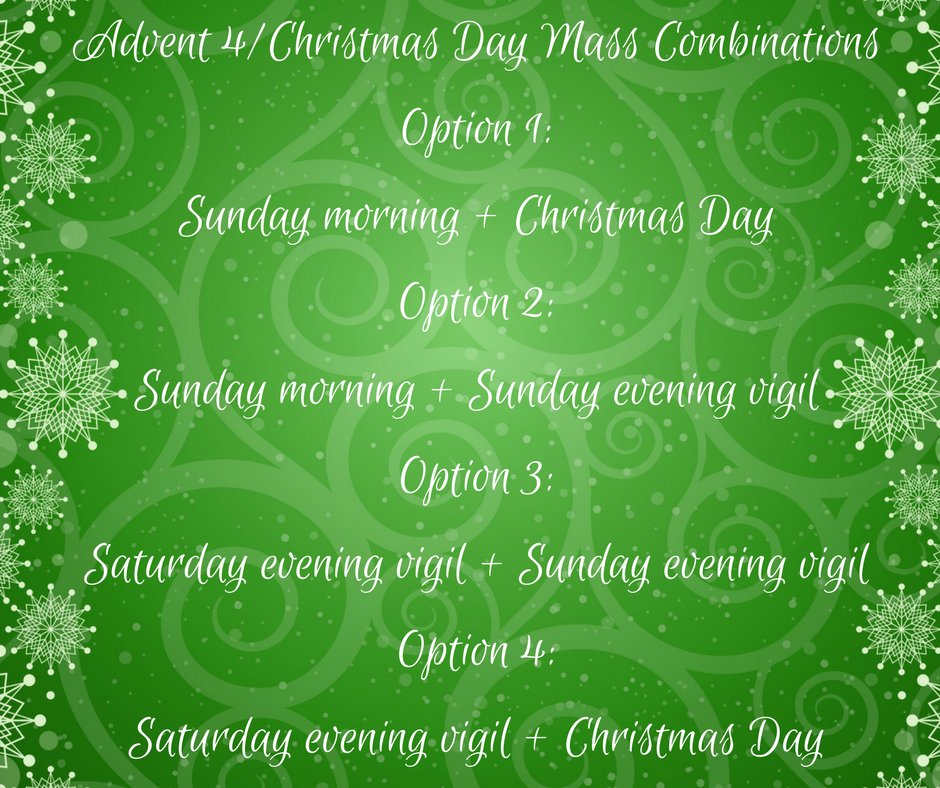 Many reading such a chart may say, "Oh, so confusing!", or "Two Masses in a weekend?" The answer to that is simple. One has to fulfill both the Sunday (Fourth Sunday of Advent) and Christmas obligation. No shortcuts here.
However, I pose a question, "Why are we so concerned about how many Masses we have to go to?" For many of us, Christmas is a time to shop around, spend time with family, party, recreation time. Sadly, Christmas has been secularized today that it seems like Jesus has been forgotten on his own birthday. When I go through the Christmas card aisle at Walmart, I find it so difficult to find a Christmas Card with depicting the Child Jesus and/or the Holy Family. Rather, snowmen, Santa and his elves adorn the front of many Christmas Cards.
Going out into the streets, there are many beautiful displays. Yet, what percentage of the displays depict the Child Jesus or has some reference to Jesus? How many Nativity Scenes are displayed in public? Or is there that fear of discrimination or possible scandal among the public?
We as Catholics should bring Christ back into Christmas. However, that starts with ourselves. Why are we so concerned about the fact that we have to Mass twice in one weekend? Why do we see going to Mass as such a burden but going to a friend's party a pleasure?
This last Sunday of Advent and Christmas, let's resolve to do this: Don't go to Mass just to fulfill the obligation. Rather, go to Mass with your whole heart to give to the Child Jesus laying in the manger. Also, don't leave the Church early. Take time to go to the Nativity Scene set up at Church and look at the figure of Jesus, Mary and Joseph. Often we complain about little things in life. But compare ourselves to the Holy Family and reflect on the obstacles they had to go through. The truth, the hardships they had to go through is nothing compared to the little we have to endure today.
Read more: